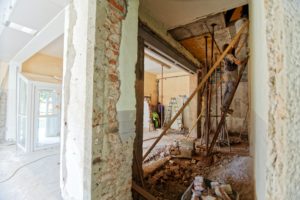 Whether you're planning to sell commercial or residential real estate, it is worth your while to put some work into increasing its value before you put it on the market. Sometimes a small investment in your property can have a big payoff in the sale, and inexpensive or even free fixes that just take a little effort can do a lot for your bottom line as well. In today's blog post, we're sharing our tips for increasing your property's value before you put it on the market.
A fresh coat of paint.
New paint can go a long way towards updating a space. Opt for neutrals like light gray. Even if there's nothing inherently wrong or bad about the current paint job, it can be helpful to redo it to cover any scuffs or fading caused by time. Plus, the smell of fresh paint tells your potential buyers that you've been making improvements from the moment they walk through the door. 
That being said, a poorly done paint job — one that leads to smudging on the ceiling, for instance — is an instant detractor. If you're not sure of your painting abilities, it will be worth the expense to hire professional painters. 
Curb appeal. 
Small improvements can make a huge difference when it comes to curb appeal. A new mailbox is a great, inexpensive addition to a residence. Landscaping can be a major improvement for commercial or residential properties. Also consider new or improved siding, walkways, and outdoor living space like patios and decks.
Fixtures

.
If you have outdated fixtures like doorknobs, cabinet handles, or even lighting fixtures, it is wise to replace them with something more modern, while also keeping it neutral. These kinds of details will make an especially big difference if your property is being shown to potential buyers unfurnished.
Cleanliness.
This one should be a no-brainer, but you'd be surprised how many people put a property on the market without cleaning up first, even if they've just evicted a tenant. You aren't doing yourself any favors when you let potential buyers see a property that isn't squeaky clean. If you don't feel up to taking the time and energy to clean up yourself, hire professionals. It's definitely worth it. 
Contact Atlas Law for Your Florida Real Estate Needs
Our team represents property owners in real estate transactions and evictions. We work with clients throughout the state of Florida. No matter what region of the state you're in, we have the knowledge and experience to help you. If you're interested in learning more about our services, contact us today!