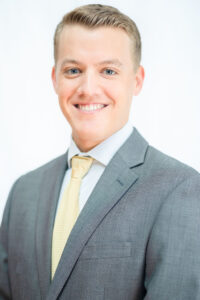 University of South Florida St. Petersburg '18  – Magna Cum Laude
Stetson University College of Law '21 – Cum Laude
Sean Cornell grew up in New York. He moved to Tampa Bay to study finance and legal studies at the University of South Florida in St. Petersburg. Sean competed for the University of South Florida Sailing Team, which captured two consecutive keelboat national championship titles while Sean served as a team captain. Sean represented the United States in international sailing competition and aspired to compete in the Summer Olympic games prior to attending law school at Stetson University College of Law.
While in law school, Sean served as a clerk for the general counsel's offices of a large energy utility company, with a focus on corporate and regulatory/administrative law. Sean excelled at legal writing and drafting courses, and graduated Cum Laude from Stetson law. Sean took interest in the sport of triathlon and completed a half-Ironman distance triathlon a few months prior to passing the Florida Bar Exam.
At Atlas Law, Sean advises and advocates for clients on legal issues relating to real estate and property management. He also drafts lease agreements, governing documents for business entities, and closing documents for real estate transactions. Sean offers his time to support youth sailing competition in the Tampa Bay area as a volunteer coach and race official.